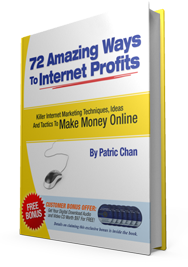 72 Amazing Ways To Internet Profits Book
"Killer Internet Marketing Techniques, Ideas And Tactics To Make Money Online"
Finally, proven internet marketing techniques, ideas and methods are now compiled in this 'no-fluff' book by Patric Chan!
"Patric Chan blows you away with idea after idea for making money online. Keep a pen and paper handy as you read this book because the ideas … and the cash … will flow from the very first chapter." Brett McFall, co-founder of the World Internet Summit

Walking With The Wise Entrepreneur Book
This is a book I've co-authored with millionaires and best-selling authors like Brian Tracy, Jay Conrad Levinson (Guerilla Marketing),
T. Harv Eker, Zig Ziglar, Dr. Wayne W. Dyer, Dan Kennedy, John Assaraf and many more. In it, you'll discover the secrets of prosperity in business and life.
Collectively, millions of people have learned from us and many have became millionaires today. For instance, you're getting advice from Wall Street Journal and New York Times best selling author about the Secret of Achieving Your Financial Goals, not just an ordinary author.
The Clicking Cash – Coming Soon
In Clicking Cash, these you'll discover the concept of creating streams of income from the internet by building internet businesses on the topics related to your hobbies, passions and interests. Believe it or not, somewhere in this world, somebody is willing to pay you money for something you already know. This book is packed with proven strategies that can show every ordinary person how to start making money from the internet. Expected to be published by the end of the 2012′s first quarter.
The International Player Book – Coming Soon
The International Player is a book I've written to share the secrets of how a local player can become an international authority. Expected to be published by middle of 2012.